2022 is over, and bowlers everywhere are looking for the best bowling balls in 2023. There are many options out there, so it can be difficult to know which one is right for you. That's why I put together this guide to help you decide.
It might seem like a small detail, but having the right bowling ball can help you make more strikes or convert more spares. A good bowling ball (which can also be used as a spare ball) has a solid grip that will help you practice without getting tired.
Investing in one of the best bowling balls in 2023 is essential to prepare for your next league match or tournament.
Here are our top 5 picks for the top bowling ball 2023. We have considered various factors, such as price, performance, materials used, and customer reviews. So, let's get started.
My list of the 5 best bowling balls for this year
The original Black Widow was a big hit, and the new Black Widow 2.0 is even better! The Black Widow 2.0 comes with an NBT Hybrid coverstock that provides more length and a stronger backend reaction than its predecessor. This ball also features the same core as the original Black Widow, making it versatile in medium oil lane conditions.
Your own bowling ball, the Hammer Black, has been drilled with a pin-down layout to provide maximum hook potential on medium to heavy oil lane conditions while maintaining enough control for most bowlers.
So, it's a great choice if you're looking for a ball with plenty of hook and reaction.
If you didn't understand some terms here, you need to read this article to familiarize yourself with the bowling terms.
Hammer Black is the second product on our list of the best bowling ball. The Hammer Legend line of bowling balls has been trendy among professional and amateur bowlers.
The Black Widow is one of the most popular balls in the line, and the Hammer Black Widow Legend is designed to take that popularity to the next level.
This ball uses a hybrid coverstock, which gives it a stronger backend reaction than other balls in the Black Widow line.
It is perfect for medium to low-rev-rate bowlers who want the proven history of the Black Widow line with an even stronger backend reaction.
We must say it's among the best new bowling balls in 2023, and that might make you a champion!
Get it drilled for your hand and start bowling some excellent strikes! Check here where to drill your bowling ball!
Storm Phaze II Bowling Ball: Best Symmetrical Bowling Ball
Storm's Phaze II is an excellent choice for bowlers looking for an all-around performer.
The Storm R2S Pearl Reactive cover stock provides length through the front part of your throw with great backend hooking power in medium oil conditions.
The Phaze II also has a higher surface finish than its predecessor, making it easier to control for those who want more accuracy from their throws. Regarding versatility, the Phaze II is an excellent option for bowlers of all skill levels.
Storm Code X Bowling Ball: Best Bowling Ball In The World?
Code X features a hybrid coverstock, which provides length and backend hooking power in medium to heavy oil lane conditions.
The RG/Differential core design helps Code X create strong arcing motion down the lane.
This bowling ball has been hailed by many as one of the best bowling balls in the world.
Many pro shops have given it high reviews and claimed it performs better than other balls they've used.
With its higher differential, the intuitive RAD4 Core provides more tuning possibilities for all bowlers. The R2S Solid ball is designed to provide greater length and backend reaction in drier conditions than other balls on the market today – making it the perfect choice when trying out your skills at home or around town!
There are many different types of bowling balls for every skill level, but what if you don't need one with fancy features?
The Hammer Scorpion will still upgrade your game thanks to its smooth finish and lack of a thumb hole!
It performs excellently in medium-heavy oil conditions or when the lane dries up because this ball doesn't lose energy as most others do.
All bowlers should consider trying it regardless; of whether they're part-timers looking at taking up more lanes during off hours while working another job elsewhere or full-time competitive bowlers seeking the win.
Are you looking for a professional bowling ball that fits many different play styles?
If so, the Pyramid Path Rising is a perfect choice. It's a rising bowling ball with a good carbon fiber outer core and finger holes to have a solid and firm grip.
The Path Pearl coverstock and the New Era 139 Symmetric core provide great length and predictability for medium lane conditions. This ball has a scale rating of 181.30, making it a good benchmark for medium conditions.
A strong mid-lane read with a smooth transition through the pins is what you can expect from this symmetric core design.
The Path Pearl coverstock offers plenty of traction on the back end, making this ball very easy to control in challenging situations. So if you're looking for a dependable ball that will perform well on medium lanes, then the Pyramid Path Rising is a better choice than other bowling balls.
Buying Guide: Factors to Consider While Buying a Bowling Ball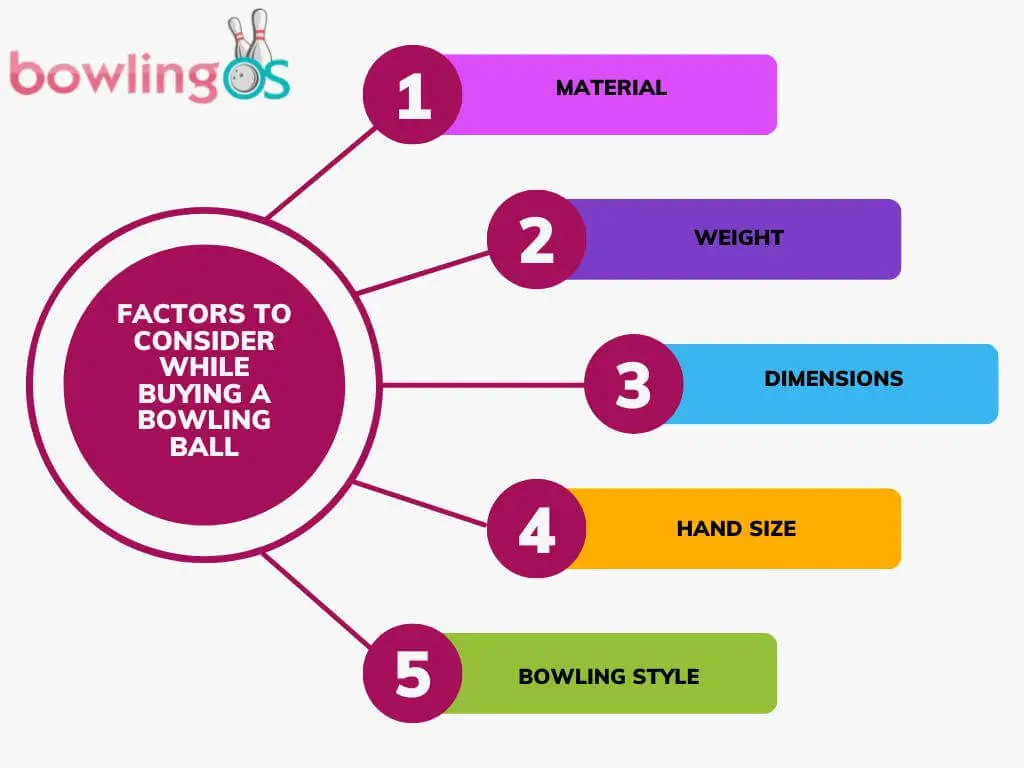 Regarding bowling, having the right equipment can make all the difference in your performance.
The most critical piece of equipment, of course, is the ball. If you're in the market for a new bowling ball, there are a few factors you'll want to consider to choose the best one for your needs.
Here, we'll go over some of the main things you should remember while shopping for a bowling ball.
Material
One of the first things you'll want to consider when choosing a bowling ball is the material it's made from.
The three most common materials used for bowling balls are polyester, urethane, and reactive resin.
Polyester balls are the least expensive and are typically used by beginners. Urethane balls provide better control and are more durable than polyester balls, making them a good choice for intermediate bowlers.
Reactive resin balls are the most expensive but offer the best performance. They're typically used by experienced bowlers who have developed a high level of control.
Weight
The ball's weight is also essential—you'll want to choose a comfortable weight to throw.
The weight of bowling balls typically ranges from 10 to 16 pounds. If you need help determining what weight is right for you, ask a salesperson at your local pro shop or try different weights at your bowling alley before making a purchase.
Dimensions
Bowling balls come in different sizes, so you'll also want to choose one that fits your hand comfortably.
The size of a bowling ball is measured by its circumference—the most common circumference for adult bowlers is 8.5 inches. If you have small hands, you may be more comfortable with a ball with a circumference of 7 inches.
There are a few factors to consider when choosing the right bowling ball size:
Hand size: A good rule of thumb is to measure your hand from the tip of your middle finger to the bottom crease of your palm and use the resulting measurement to determine the appropriate ball weight. A ball that is too heavy or too light can be difficult to control, so it's essential to find a comfortable weight in your hand.
Bowling style: Different bowling styles may require different ball weights. For example, a heavier ball may be more suitable if you have a slower, more controlled delivery. On the other hand, if you have a faster, more aggressive delivery, a lighter ball may be more appropriate.
Lane conditions: The weight of the ball you choose should also be influenced by the conditions of the lanes you will be bowling on. A lighter ball may be more effective if the lanes are dry and slick, as it will be easier to control and won't hook as much. If the lanes are oily and have more friction, a heavier ball may be more suitable, as it will be able to generate more hooks and provide more power.
Personal preference: Ultimately, the right bowling ball size is a matter of personal preference. It's important to try out a few different weights and see which one feels the most comfortable and effective for your bowling style and skill level.
Price
Finally, price is always an important consideration when making any purchase, and bowling balls are no exception. You can find bowling balls at a wide range of prices, from $20 to $300 or more.
It's important to remember that expensive balls can offer better performance but are optional for everyone. If you're starting, look for a less expensive ball until you get a feel for the game and figure out what features are most important to you.
FAQs About Best New Bowling Balls 2023
What bowling ball do professionals use?
Many professional bowlers use the Hammer Black Widow bowling ball. It is known for its versatility, durability, and its ability to produce a strong hook on the lane.
What are the warranty and return policies for the different bowling balls being considered?
The policy depends on the manufacturer and retailer, so it's important to check with them before making a purchase.
How often should I replace my bowling ball?
The average life span of a bowling ball is three to five years. However, if you notice any wear and tear or a decrease in performance, you may need to replace your ball sooner.
What is the standard size for a bowling ball?
The standard size for a bowling ball is 8.5 inches in diameter and can weigh between 6-16 pounds.
Is a more expensive bowling ball better?
More expensive bowling balls typically have higher-quality materials, which can offer better performance. However, you don't necessarily need an expensive ball for good performance; plenty of good quality, affordable options are available.
What is the heaviest bowling ball?
The heaviest bowling ball available typically weighs 16 pounds.
2023: Looking ahead
As we look forward to 2023 in the bowling world, there are many exciting developments and events to look forward to. One of the most highly anticipated events is the return of the PBA Tour, which was paused due to the COVID-19 pandemic. With top bowlers from around the world set to compete in a variety of tournaments, the 2023 PBA Tour is sure to be an exciting and competitive season. Additionally, new technology and equipment continue to be developed, making the sport more accessible and enjoyable for players of all skill levels.
Wrapping Up: Best Bowling Balls 2023
Are you looking for some top bowling balls in 2023? The purchase of a new bowling ball can be intimidating for any bowler. However, you now have some of the best bowling balls on the market in your hands. Each ball has its features and benefits. Whether you're looking for an affordable option or something with top-notch performance, one of these bowling balls will meet your needs. Consider material, weight, size, and price to find the perfect ball for your game.
We have discussed many bowling balls for beginners, mid-level bowlers, and experts. This guide will help you shop for the best new bowling balls in 2023. All these bowling balls, like black hammer black widow, Brunswick rhino bowling ball, and ebonite maxim bowling ball, are high-performance bowling balls with a solid reactive finish, so you can choose any of them you like!