Throughout the world, people have enjoyed bowling. The health benefits of bowling include getting more physical activity, and it's a stress reliever. Approximately 4,000 years ago, bowling came to Greece and Rome, becoming one of the most popular sports options out there.
If you enjoy it as a form of exercise, you aren't alone because I do, too. About 25 percent of Americans do it each year, so this is one of the biggest participation sports out there. With that, bowling is a $4 billion industry, and there are about 3,000 centers in the US. Besides it being a competitive and fun game, bowling offers many benefits.
Benefits of Bowling for Toddlers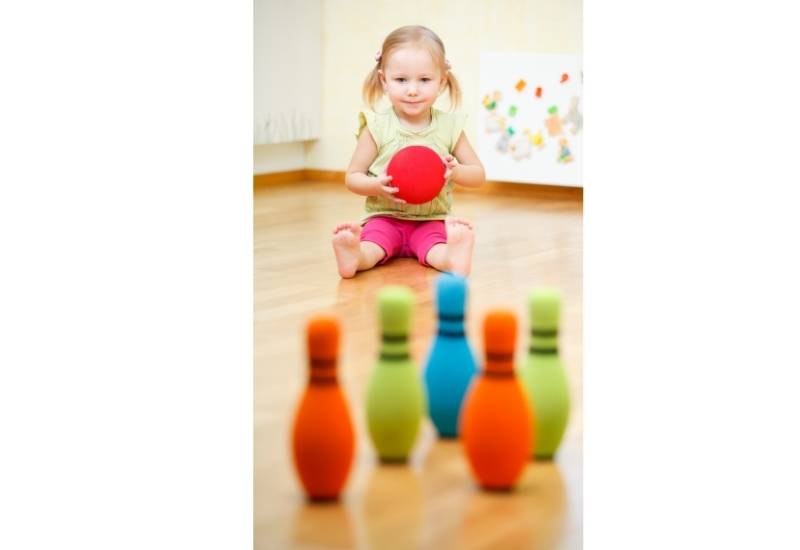 Many people worry about toddlers bowling because of the heaviness of the ball. However, most centers have special tools to help make it easier for your little one. For example, they might have ball slides that let the adult set the ball at the top while the child pushes it to make it go.
Here are some of the benefits of bowling for toddlers:
Gets Kids Physically Active
I know that kids play all the time, but much of that is them sitting on their behinds with dolls or toys. You want your children to be physically active, and bowling works every muscle in the body.
As they start a game, they must walk back and forth while pushing a heavy (for their age group) ball. This type of exercise doesn't feel hard, so they have fun as they bowl without realizing that they're working out.
Enhances Motor Development
As the child starts to bowl, they are building their motor skills. It takes effort to pick up the ball and roll it down the lane, which builds the muscles in the legs and arms.
As kids find a love of the game and build those muscle groups, they improve their throwing and running skills on the playground, too.
Builds Motor Planning
I think that most people make bowling look easy, but it's not a simple game. When you bowl, you require a lot of motor planning. You must use your legs and arms simultaneously, which is hard for some people and especially kids.
Sometimes, I even find it hard to use one hand for my ball but step the opposite leg forward. Though I'm an adult, imagine how much harder it is for a child.
This takes tons of communication between the body and brain, but it helps your child succeed in sports and school.
Promotes Family Bonding
My family enjoys bowling together, and we never consider it exercise. In fact, it's just a fun way to be together and play.
As your kids realize how enjoyable it is to be with the family, you can ask their friends to bowl, too.
Ultimately, I feel that family time is crucial, and it's harder and harder to find time to spend with the entire family. Whenever you can, I recommend that you bowl as a group!
Benefits of Bowling for Students
Students (and older kids) can also experience the benefits of bowling. Here are just a few of them:
Enhances Problem-solving Skills
When I bowl, I'm not just rolling the ball down the lane. It involves a lot of problem-solving and planning within the game. For every turn, you must release your ball at the right time and with the right angle. When multiple pins are down, you've got to figure out where to bowl next to feel the others.
Ultimately, I feel that bowling helps students improve their thinking skills and learn about trial and error. This happens throughout the world, and in their lives, so it's important to focus on it now.
Builds Confidence
I think it's fun to watch kids knock over their pins and get strikes. With each game, they can get stronger and build their confidence. This can also be a stress reliever for you because you have high self-esteem.
Focuses on Hand-Eye Coordination
Bowling takes more thought, which also means more hand-eye coordination. As they start out with the game, they could fall over or lose their balance. I've seen it. As they practice, their arms get stronger, and their hand-eye coordination gets better. That way, they can knock down the pins with less effort.
Strengthens Math Skills
Have you ever kept track of your score when bowling? I have, and it gets tricky at times. Therefore, bowling is fun, but it can also enhance a child's math skills. Little ones might start counting the pins, and high-school students can add up their own scores as they bowl.
I like to make it a bit harder by having the kids write down their goal for a score and then figure out how many points they need after each frame!
Enhances a Child's Social Skills
Though bowling appears to be an individual's game, playing on a team is a pastime everyone loves. Most bowling alleys provide bowling leagues for kids, which can help their social skills and reduce their mental stress.
As they bowl, they make new friends, and everyone works together as a team while they play.
Benefits of Bowling in Our Body
Bowling is definitely a game that everyone can enjoy. There are so many health benefits of bowling because it is exercise but it doesn't feel like it. Here are some of the reasons to bowl for your body:
Better Social Life
Approximately 2 million bowlers play and bowl together in bowling leagues throughout America. Ultimately, bowling leagues let you meet with other players and spend time with them. You may make new friends or keep your old ones.
Finding companionship through a team can ease loneliness for those who live alone. With that, playing sports like this is easy. I've found that most bowlers in leagues have other shared interests, too. In a sense, the bowling team helps them find each other, but they start doing other things than bowling.
Reduces Stress
When I engage in physical activity like bowling, it helps me reduce my mental stress.
While I'm playing, I'm socializing with others during the game, which is a huge mental stress reliever. Plus, it's exercise, but I don't feel like it's work while I bowl. In a sense, it's the best sport out there! You can't beat bowling!
Tones and Strengthens Muscles
Another of the great health benefits of bowling is that you tone your muscles and strengthen them. This type of physical activity works the arms and other muscle groups to help you burn calories like any other sport. I wrote more about bowling health benefits here.
However, you don't stress out your body with this type of exercise, either. Plus, when you're holding the bowling ball in your hands, you're walking with that extra weight. As you swing the arm to throw the ball, the flexing and stretching works the muscles, joints, ligaments, and more in the arms.
Instead of running or doing something you dislike, grab a bowling ball and start bowling!
Promotes Weight Loss
Bowling keeps you slim because it speeds up your metabolism. While the game is set in a smaller area, the constant movement helps you to burn extra calories.
You exercise the legs when walking back and forth and the whole body as you lift and swing the bowling ball down the lane. I think it's a fun sport.
An average bowler walks approximately three-fifths of a mile during a three-game series. Therefore, depending on your weight and how much effort you're putting into the game, bowling might burn anywhere from 150 to 300 calories.
That's because you're using all those muscles and bearing your weight or shifting your weight as you go.
Plus, you can burn 300 calories with each game, which means this sport can help you take the weight off.
Reduces the Risk of Disease
Having a sedentary lifestyle means that you're more at risk for heart disease. The health benefits of more movement, even through bowling, can lower your risk of a heart attack, stroke, and more. Plus, bowling a game or two can increase your bone density, lower cholesterol, improve circulation, and lower blood pressure.
Your body also learns how to use the oxygen within better, creating a balance. Therefore, head out to your favorite bowling alleys once a week or more!
Everyone Can Enjoy It
Bowling alleys are one of the few places that let all ages compete. Playing to become a pro might not be your goal in life, but it is fun and can work your body. Even senior citizens can enjoy the sport and become excellent bowlers.
Ultimately, bowling works your muscles without hurting your body.
Promotes a Healthy Heart
Bowling is a sport that works all of your muscles and helps with balance. Though you learned about the overall health benefits of movement within the body, you should be aware that bowling is really good for the heart muscles.
Add some years to your life by playing a game of bowling and see how it affects you!
Benefits of Bowling Shoes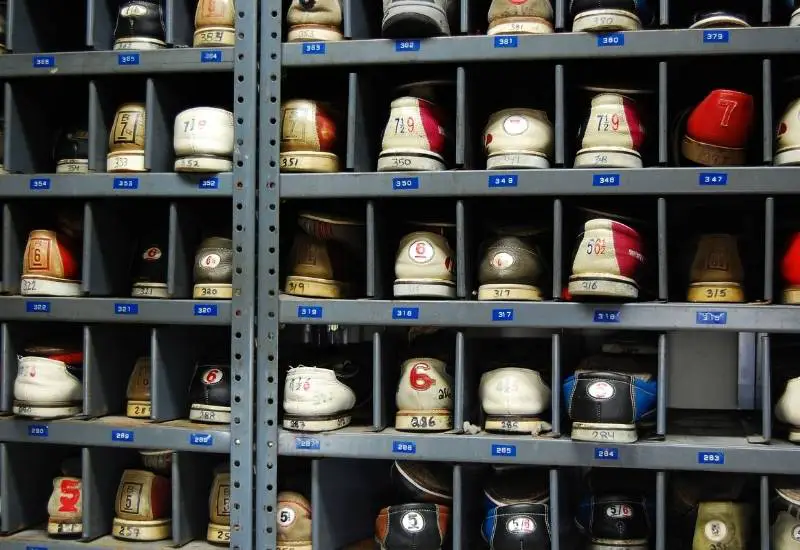 There are many benefits of bowling shoes, such as:
They are made specifically for the bowling alley to promote sliding where necessary
Wearing slick shoes can help you get a smooth motion, even during a three-game series.
Bowling shoes prevent you from getting injured because you stop safely and move better.
The shoes protect the lanes of the bowling alley from getting scratched or damaged.
Bowling is a sport, and you must have the right equipment. This is not only for safety but for comfort, too.
Some of my guides about bowling ball shoes:
*What bowling shoes do pros wear 
*Best bowling shoes for wide feet
*Best bowling shoes with interchangeable sole
Conclusion
Throughout the world, people marvel at the health benefits of bowling. While other sports might be too strenuous for the whole family, you're sure to enjoy this game. Bowling is safe and easy to do, and it's inexpensive to get started.
Head to your local bowling alley now to start playing this sport and have a ton of fun!